Data Networks
All cabling is fully certified, has guaranteed workmanship for 10 years and comes with full test reports.
Do you need quality licensed cabling? CommsCentre can provide solutions for:
Optic Fibre Cabling Endorsed Installers and Testers
Telecommunications cabling
Structured cabling
CCTV
Data cabinets (Cat6, patch panels and routers)
Speaker systems
PA systems
Phone systems
Data cabinets
Home networking
We offer structured or intelligent cabling which is done once and done right, meaning no hassles for you in the future. All of our cabling is performed to Australian Standards by Austel licensed technicians. We can install home automation, Ness products and we also have Fluke certified cabling testers.
Contact us for your cabling requirements today.
Home Data Integration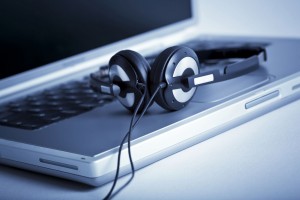 When you make the investment of building a new home, the final result should be a home that is not only attractive and comfortable, but one that also keeps pace with your family's expanding technology needs.
Providing a unique structured wiring solution that organises and distributes different technologies throughout the home – integrating home entertainment, computer networking, audio and video, digital and Pay TV and security.
When you select a solution through CommsCentre you'll not only enjoy all the benefits of today's most advanced home wiring and networking technology, but your home will be ready for tomorrow's technology advances without the need for rewiring.
Whether you need greater functionality for your home office, a local area network, high-speed Internet access, or more convenience in accessing your home entertainment equipment is an easy to use and affordable solution.
Television and Video
Multi-room viewing – share video sources (such as DVDs) allowing playback on any TV in your home.
Broadcast digital and Pay TV programming to your connected televisions.
Easily set up video security and monitor the feed from any TV in your home.
One-touch home theatre – press a single button to close the blinds, dim the lights and start the DVD.
The optional LexCom Home Audio enhances your entertainment with 5.1 surround sound speakers ready to connect to your entertainment system.
Voice
Multiple phone lines allow for a dedicated home office or fax line, or even a separate personal line.
Never miss an important call again.
Data
Share files and hardware such as printers, copiers and fax machines across any connected computer
Share a high speed ADSL connection throughout your home
Centralise content like movies, music and family photos and conveniently distribute them throughout the home
Extend your Windows Media Centre device to any display connected to the home network
Future Compatible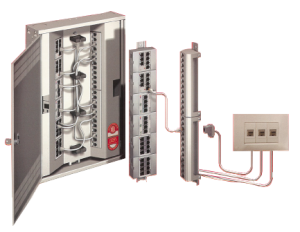 CommsCentre uses wiring that surpasses the needs of today so you're ready for the technology of tomorrow. The cabling infrastructure supports a frequency range over 1 GHz that exceeds the current and any future requirements for free-to-air TV signals. With a rated data capacity of 10Gbps/Cat7 (100 times faster than the common 100Mbps/Cat5 used today), ensures your data will run smoothly well into the future.
Flexible
All the outlets in your home are identical, regardless of the device you wish to connect. These outlets are connected by cables to a distribution centre. Incoming cables (e.g. phone, data and TV) are connected at the distribution centre, and patch leads are used to route the incoming signals to individual outlets around the home.
This allows for great flexibility as it's simple to reconnect any outlet in any room to receive whichever incoming signal you require. The modular design of the system also allows for upgrades or replacement parts to add new functionality as technology moves forward.
Contact us today to learn more CommsCentre's data networking options.