TV Antennas
CommsCentre can assist with the installation of a TV antenna to your home or business, allowing you to pick up digital TV.

Considering all the factors
When installing your antenna we consider a number of factors including:
The best position
Potential interference or obstructions to the signal
Secure mountings
Types of Antenna
Digital Combination Antennas
Digital + Analogue Combination Antennas
VHF Antennas
UHF Antennas
Caravan and marine antennas
Indoor Antennas
MATV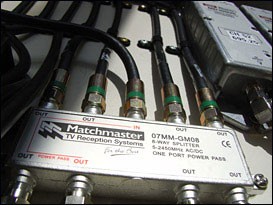 MATV stands for Master Antenna Television. It is the means by which many apartment houses, hotels, schools and other multi-unit buildings distribute TV and FM signals to a number of receivers.
Contact CCBT today to find out more about our TV antenna installation services.