Altai Super Wifi

Altai Technologies is a leading supplier of carrier-grade Wi-Fi products and technologies. The Altai Super WiFi Solution includes a complete portfolio of indoor and outdoor products for carriers, WISPs, and enterprises to support a wide range of applications such as mobile data offload, public access, WLAN access, and backhaul.
Better coverage, reliability, and experience for mobile users
The increased use of smartphones and tablets has caused an explosive growth in wireless traffic. Today, WISPs and enterprises are facing huge challenges on their Wi-Fi networks due to the ever-increasing demand in network capacity and worsening RF conditions where there are more and more clients and interference.
At the heart of Altai Super Wi-Fi Solution is a collection of technology breakthroughs to meet these challenges.
Altai's patented smart antenna technology adaptively routes traffic to each client by maximizing the signal strength and minimizing the interference and packet errors. Furthermore, Altai's smart antenna arrays are either dual or tri polarized, which increase the effectiveness of MIMO for 802.11n and 802.11ac.
AirFi enhances an AP's capacity by optimizing each client's throughput based on its signal strength and traffic.
802.11ac delivers data rates up to 1.3 Gbps in the 5 GHz band. The increased capacity, together with Altai's smart band steering / load balancing technology, ensure that clients always associate with the best radio for maximum network performance; this allows a Wi-Fi network to support a large number of mobile users running band-width hungry apps such as HD video streaming.
The combination of these technologies allows Altai products up to 10 times the coverage and 5 times the capacity over those of a standard AP. This enables WISPs and enterprises to deliver unparalleled Wi-Fi experience and highly reliable and consistent services to their mobile users.
Super Wi-Fi with unmatched value

Altai Super WiFi Solution delivers one of the best price / performance value in the market:
Because Altai AP's coverage is much larger than the footprint of a standard AP, far fewer APs are required for a Wi-Fi network.
With AltaiCare, APs can be deployed in a cloud-based architecture to save the cost of controllers.
Pay-as-you-grow subscription model of AltaiCare results in lower OPEX.
AltaiCare's location-aware advertising services enables additional revenue from advertising.
By deploying the Altai Super WiFi Solution, the total CAPEX and OPEX of a Wi-Fi network can be greatly reduced. This in turn enables a quicker ROI and TCO.
Market applications
The capability of the Altai Super WiFi Solution has been tested and proven again and again – by the deployments of carriers, WISPs, logistics centers, campuses, exhibition halls, and manufacturing plants in more than 80 countries.
Carriers and WISPs use Altai products to solve capacity and coverage challenges caused by the increasing number of mobile user and interference.
Product Portfolio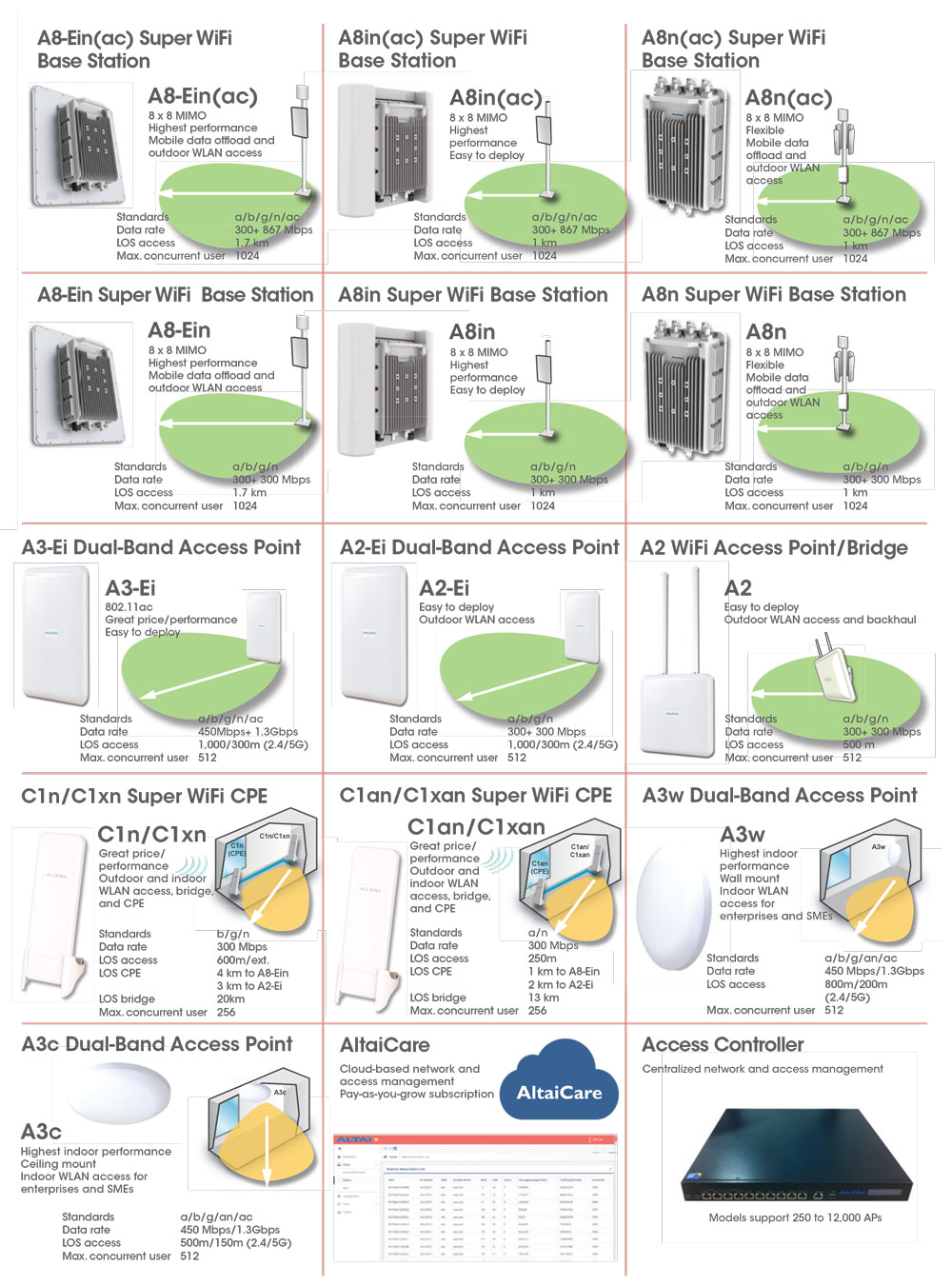 For more information about Altai Super Wifi or to discuss your networking needs contact us today